All of our live online audio classes are presented through PalTalk, the word's largest instant messaging service. If you do not already have a PalTalk account, you can sign up for a free account by clicking here.

Once you have a PalTalk account, you can join any of the classes or worship services listed in the above schedule by following these directions.
1. Login to Paltalk. This will bring up the "Welcome to PalTalk" screen.
2. At the bottom of this screen, click the button labeled "Browse All Chat Rooms." This will bring up a screen titled "Rooms List," which displays the many categories under which PalTalk has organized the thousands of chat rooms that users have created.
3. At the top left of this screen, you will see two dialog boxes. Make sure that the one to the right displays "English." If it doesn't, open the scroll-down window and select "English"
4. The dialog box to the left contains this text: "<Search for a Chat Room>". Type into this box the following text: "Beit Ha-Midrash" (or "Beit HaKodesh Orah" depending on which class or worship service you wish to attend). Now press the blue "Go" button to the right. This will take you to a screen titled "Rooms List – Search Results." Here you will see our room listed with others.
5. Highlight our room and click the yellow-orange "Join" button at the lower left corner of the page.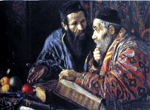 To listen to previously recorded lectures, go to
Audio Archive
Many people are unable to attend the live shiurim given by Reb YaNYaL. Others wish to hear a lecture more than once. To accommodate these situations, we maintain an online archive of Reb YaNYaL's audio lectures, saved in .mp3 file format. You may download these files free of charge and listen to them at your leisure.

To visit the Online Audio Lectures Archive, click here:
| Day & Time of Meeting | Name of Room on PalTalk | Topic of Study & Other Information |
| --- | --- | --- |
| Mon. & Wed. 8:00-8:45 p.m. ET | Beit HaMidrash Sabbatian Kabbalah | Sabbatian Kabbalah, An Introduction (Open to the Public) |
| Mon. & Wed. 10:00-10:45 p.m. ET | Beit HaMidrash Sabbatian Kabbalah | Rebroadcast of Sabbatian Kabbalah (Open to the Public) |
| 1st & 3rd Friday 10 - 11 p.m. ET | Beit HaKodesh Orah | Erev Shabbat Worship Service (Open to the Public) |
| 1st & 3rd Saturday 12 - 1 p.m. ET | Beit HaKodesh Orah | Shabbat Study, Prayer & Meditation (Open to the Public) |